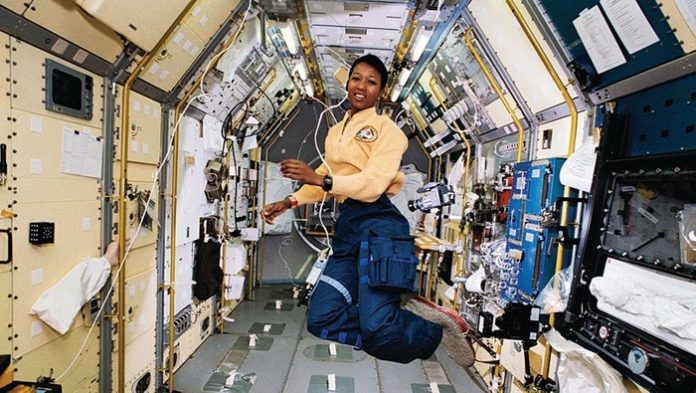 For several decades now, women have continued to play an increasing role in the conquest of space. The presence of women in space has, however, encountered difficulties.
In recent years, NASA and other space agencies have been trying to allow female astronauts to play a greater role, but the delays accumulated over time have not yet been fully resolved.
Discover with us these female astronauts who have marked the history of the conquest of space.
1. Valentina Tereshkova, the first lady of space
It is Valentina Tereshkova who has the honor of being the first woman to perform space flight.
Only two years after the first manned space flight in history, performed by Russian cosmonaut Yuri Gagarin, the leaders of the Soviet Union's space program decided this time to send a woman into space.
Daughter of working-class parents, Valentina Tereshkova was herself a worker in a textile factory.
Although she was selected to fly into space, Valentina had no scientific or military background. She is therefore also the first civilian to have traveled in space.
Nevertheless, she had still trained in piloting and parachute jumping during her spare time.
On June 16, 1963, Valentina Tereshkova took off on a 3-day solo flight in orbit around the Earth.
Aged only 26, Valentina Tereshkova is still today the youngest woman to have traveled in space, but she is also the only woman to have flown solo.
At the time, this mission was of great political interest to the Soviet Union, which wanted to show that in the USSR social advancement was truly possible in communist Russia.
2. Svetlana Savitskaya, the first woman to walk in space
Although the first spaceflight of a woman took place very early in the history of the conquest of space, it took 19 years before a second woman was sent into space.
Like her colleague before her, Svetlana Savistkaïa is also from Russia.
But unlike her predecessor who came from working-class backgrounds, before becoming an astronaut, Svetlana Savitskaya had trained as a pilot at the Moscow Aviation Institute and was also a flight instructor.
She acquired a long experience as a test pilot which later helped her to be selected by those in charge of the Soviet space program.
It was in 1980 that Svetlana succeeded in passing the selection tests to join the ranks of Soviet cosmonauts.
Its first space mission took place in August 1982 and lasted 8 days. Her flight took place 19 years after a woman's first stay in space, performed by her colleague Valentina Tereshkova.
In July 1984, a new milestone was reached when during her second space mission, Svetlana became the first woman to perform a spacewalk.
This outing lasted three hours, during which she and her colleague carried out work outside the Soviet space station Salyut-7.
3. Sally Ride, America's First Female Astronaut
Sally Ride is a pioneer of American space exploration. While all previous American space missions had been made up of men only, in 1977, NASA decided to proceed with the recruitment of the first contingent of female astronauts.
The competition is then very tough. 8,000 candidates applied for a position in this prestigious contingent of space explorers.
In 1978, among the 35 new astronauts selected, Sally Ride managed to get a place alongside 5 other women.
The absence of American female astronauts before Sally Ride is due to the fact that, until this period, NASA only recruited military personnel. Men are in the majority in this profession. Civilians had a slim chance of landing an astronaut job and women were not taken into account in the recruitment process.
Unlike the culture of the time, which prioritized the choice of astronauts over test pilots and the military, Sally Ride graduated in physics from Stanford University.
After a few years of working for NASA, she was selected to be the first American female astronaut.
In June 1983, 19 years after Valentina Tereshkova, Ride took off aboard the space shuttle Challenger. Aged 32, she is still today the youngest American astronaut to have gone into space.
The mission, which lasted 6 days, served mainly to deploy communication satellites.
The following year, she again flew aboard the Challenger space shuttle for her second and final space mission.
4. Kathryn Sullivan, the first American woman to walk in space
It was in October 1984 that Karthyn Sullivan flew for the first time aboard a space shuttle in the direction of space.
On this trip, she is accompanied by her colleague Sally Ride who is on her second trip.
During that first mission, Sullivan became the first American woman to perform a spacewalk, just three months after Russian cosmonaut Svetlana Savtitskaya.
That's not all, in 1990, she embarked again in space for a mission of the greatest scientific importance. Indeed, it was during this mission that NASA deployed the mythical Hubble Space Telescope, which has provided us, throughout the last 30 years, with some of the most beautiful images of space.
5. Christa McAuliffe
Unlike many astronauts, mostly from the military or scientific backgrounds, Christa McAuliffe was a history teacher.
In 1984, she applied for a rather unique space mission. Indeed, NASA wanted to send a teacher into space as part of the Teacher in Space project .
In 1985, she managed to be selected and began her training. She then prepared lessons that were to be transmitted from space and broadcast live on television.
Unfortunately, on January 29, 1986, the shuttle Challenger which was to carry her and her crew into space exploded some 73 seconds after liftoff.
6. Mae Jemison, the first black woman in space
Mae Jemison broke a new barrier by becoming the first black woman to go into space.
Originally from Alabama, she said she was inspired from a young age by the character of Uhura from the Star Trek space series.
In 1973, aged just 16, Jemison was admitted to Stanford University in the state of California.
She studied chemistry there, but did not stop there. Later, she will also obtain a degree in medicine (1981).
Between 1983 and 1985, she worked as a volunteer doctor in Africa with the Peace Corps, an independent American agency dedicated to assisting social and economic development in developing countries.
In 1987, she was admitted to the NASA astronaut corps. Before going to space, she worked for a while at the Kennedy Space Center.
It was in 1989 that Jemison was selected to participate in the STS-47 mission.
In 1992, she finally realized her childhood dream by flying aboard the space shuttle Endeavor for a joint mission with the Japanese Space Agency. The mission lasted 8 days during which Jemison and his colleagues carried out scientific experiments within the Spacelab (1981-1998), the space laboratory developed by the European Space Agency.
7. Eileen Collins, Commander
Eileen Collins has the profile of the classic astronaut from the ranks of the Air Force.
Before joining NASA in 1991, Collins was a pilot in the US Air Force.
The American driver made history for achieving two important milestones. In 1995, during her first trip to space, she became the first woman to pilot a space shuttle.
The 1995 STS-63 mission was also a historic mission, as it was the first US-Russian collaboration since the end of the Cold War. (One crew member was Russian. He was the second Russian to fly on an American space shuttle). In addition, the space shuttle made the 1st rendezvous with the Russian space station Mir.
In 1999, she took to the stars again by participating in the deployment of the Chandra space telescope, alongside French astronaut Michel Tognini. During this mission, Collins becomes the first woman to command a space mission.
In 2005, during her fourth and final flight into space, she was again given the position of mission commander.
8. Kalpana Chawla
Kalpana was the first woman of Indian origin to fly in space.
Born in India in 1961, Kalpana moved to the United States in the 1980s to continue her studies.
After brilliant studies and obtaining a doctorate in aerospace technology from the University of Colorado, she joined NASA in 1994.
For her first mission in space, she won a place in the STS-87 mission which was to take place in 1997. During this first trip, she had the task of carrying out various scientific experiments that astronauts have for mission to perform while in space.
Unfortunately, in 2003, during its second mission, the shuttle Columbia inside which it took place caught fire before disintegrating. The disaster occurred as the crew returned to Earth after completing their mission.
9. Claudie Haigneré, the first French woman in space
The astronaut Claudie Haigneré is the first French and European woman to have stayed in space.
After working as a doctor for several years, she got closer to the aerospace community through her research in microgravity and space medicine at the National Center for Space Studies.
Claudie Haigneré made her first trip into space on August 17, 1996 aboard the Soyuz rocket. She and her crew stayed for 8 days in the Russian space station Mir.
In 2001, she left for a new mission. She then became the first French astronaut to stay aboard the brand new International Space Station (ISS).
Even today, she remains the only French woman to have gone into space.
10. Julie Payette, the first Quebecer in space
Julie Payette is the first female astronaut from Quebec and the second French-speaking woman to go into space after the Frenchwoman Claudie Haigneré.
11. Sunita Williams
Sunita Williams was a real record breaker. In 2006, during her first trip to space, she set three records held by women who had preceded her.
During this first stay, she became the woman who had spent the longest stay in space. During this trip, she spent 188 days on the International Space Station.
With her four spacewalks, she also won the title of woman with the most spacewalks.
Finally, his four spacewalks also enabled him to set the record for the longest period of time spent on a spacewalk. In total, she spent just over 29 hours outside the space station performing repairs and other maintenance tasks.
In 2012, during her second stay in space, she served as commander of the International Space Station. She is then only the second woman to hold this position after Peggy Whitson in 2007.
12. Anousheh Ansari
Anousheh Ansari is the first Iranian to travel to space
But she is not an astronaut like the others. Anousheh ansari is one of the very first space tourists.
A successful businesswoman, Ansari secured a ticket to the Space Station after shelling out a whopping $20 million from the sale of her business.
She took off in 2006 aboard the Soyuz rocket for a 10-day stay aboard the International Space Station.
She is also the first woman of Iranian descent to fly into space.
13. Anne McClain
Anne McClain comes from the ranks of the army. In 2002, she completed a Bachelor's degree in aeronautical engineering at the West Point Military Academy before obtaining, in 2004, a master's degree in aerospace engineering from the University of Bath, England.
She began her military career as a helicopter pilot and participated in the Iraq war.
It was in 2012 that she was selected to join NASA.
Anne McClain spent 204 days in space between December 2018 and June 2019. However, she is expected to participate in the Artemis mission, the future American mission to the Moon scheduled for 2024.
If selected, she could then become the first woman to walk on the Moon!
14. Liu Yang and Wang Yaping, China's first female astronauts
In 2012, after a career in the Chinese Air Force, Liu Yang became the first Chinese female taikonaut (the term used to qualify Chinese astronauts).
At the time, the selection of women candidates had hit the headlines. The competition had established particularly unusual selection criteria.
During the selection, the Chinese Space Agency had retained the following criteria to guide their choices: the candidates had to be married, have white teeth, and not smell bad!
Unlike astronauts from other countries, the Chinese occupy their own space station named Tiangong 1 (Heavenly Palace)
Liu Yang therefore flew aboard a Chinese rocket and accompanied by an exclusively Chinese crew.
In 2013, a year after Yang, a second female taikonaut was sent into space. Like her predecessor, Wang Yaping also comes from the ranks of the Chinese Air Force.
China's space ambitions are growing. The country already has its own Space Station and is in full development of a new station which will be named Tiangong 3.
With the development of Chinese operations in space, women will most likely continue to play an increasing role in future space missions.
15. New records set by female astronauts
The first 100% female spacewalk
Women astronauts still continue to reach new milestones. On October 18, 2019, American astronauts Jessica Meir and Christina Koch were the first astronauts to perform an all-female spacewalk.
Longest stay in space for a woman
American astronaut Christina Koch also recently broke the record for the longest consecutive period spent in space by a woman. During his stay, between March 2019 and February 2020, Koch spent no less than 328 days in space!
Peggy Whitson the Dean of Space
Astronaut Peggy Whitson holds the title of American astronaut (of any gender) with the longest time in space. During his three trips, which took place between 2007 and 2017, astronaut Whitson spent a total of 665 days in space!
16. The future of women in space
When will the first woman be on the moon?
Shortly after his election, US President Donald Trump made a promise to do everything possible to allow Americans to set foot on the Moon again, starting in 2024.
Unlike the 1960s and 1970s, when all the astronauts who participated in the Apollo missions (1969-1972) were all men, this time NASA is already considering the presence of one or more female astronauts within of the crew that will leave for the Moon in 2024.
The new lunar mission, which bears the name Artemis, will consist of a crew of four astronauts. But only two of the crew members will land on the Moon. The other two will remain on board the space module, which will remain in orbit around the Moon.
It is therefore likely that NASA will choose to send a man and a woman to the lunar soil.
Will women go to Mars?
Although the first manned mission to Mars is not expected before the 2030s, female astronauts will definitely be part of the journey.
17. How many women have been in space?
To date (September 2020), there have been 65 female astronauts out of a total of just over 560 individuals.
Fortunately, space agencies are catching up on the backlog accumulated over the past decades.
Now, NASA promotions include more and more women. New cohorts are often near parity and NASA has made this a priority.
For example, the latest promotion, which graduated after two years of training, is made up of six women out of a total of thirteen new recruits.
The horizon for future space missions therefore promises to be much more equal than in the past.
We can expect a steady increase in the number of women in space as space agencies adapt to the realities and challenges of the 21st century.
Bring down the space in your home!
Are you passionate about space conquest? Browse our online store to discover a host of astronomy decorative items.
You will also discover astronaut decoration items, or a unique collection of planet decoration in which you will find a complete selection of decorative objects on the theme of planets.
In particular, you will discover a wide range of items to decorate your child's room. You will be able to produce a unique spatial atmosphere thanks to our space lamps, our space night lights or the magnificent moon lamp.